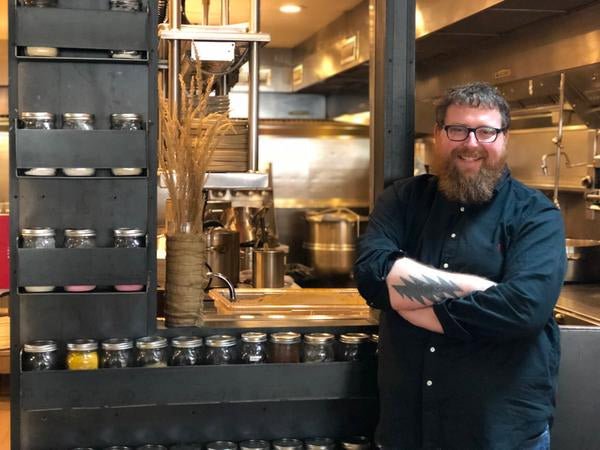 While we love selling spices online to home chefs, we will never forget where we started — in person, with restaurants. What began as a few wholesale spice orders to restaurants in the Rocky Mountains has grown to more than 400 restaurant partners across the country. We're inspired by these chefs every day, so we figured it's only fair to share them with you so you can be inspired in your own kitchen too.
Justin Brunson, Owner & Chef — Old Major
Meet Justin Brunson — meat master, executive chef and owner of Denver's Old Major. Brunson's got a lot on his plate these days (pun intended). Old Major is celebrating five years in Denver, and that's just one of his many projects. Brunson also owns Culture Meat & Cheese, Masterpiece Delicatessen and the soon-to-be meat production company Red Bear American Charcuterie. You may have also seen him on the Food Network.
Why do you choose to work with The Spice Guy?
"The Spice Guy is everything we look for when we're sourcing — small, local, independent, and they have a great product. They're just nice guys to work with, and I've gotten to the point where I only want to work with people I like doing business with."
What TSG products do you incorporate into your dishes?
"Oh, jeez. Off the top of my head? We've got more than 300 spices in this place! We cure all of our meats in the Trapani sea salt. It's a big thing to have a great quality Mediterranean salt like that. I also love the mustard seed, coriander and chiles."

What do you wish more people knew about using herbs and spices?
"Use more of them! One of my favorite combinations that I use in the restaurant and at home for everything is bay leaf, black peppercorns, fresh garlic, olive oil, aleppo peppers and lemon. I cook everything in that. I sous vide octopus in it, poach fish in it, make a dressing for meat or braise. You can do a lot with it."
What are you most excited about right now?
"The spring menu at Old Major. I can't wait to be done cooking winter food. I'm so tired of seeing brown and orange on the plate. I want some green in here! I'm really super stoked about all of the vegetable dishes we've been working on. I'm a meat guy, but we've got to get some color on the plate again to show it off. "